POWER FACTOR CORRECTION DANDENONG
After several weeks of negotiations, site visits and estimating, we have recently been awarded a power factor correction job at a plastics compounding plant in Dandenong.
At present the plant has a lagging power factor of around .81, which given the amount of power they consume, is a significant amount of wastage due to the poor power factor.
We are installing a 500KvAr Sinexcel SVG (Static Var Generator) unit to get guaranteed power factor increases of .98 Lagging, with the potential to get to unity (PF of 1.00). This is very modern technology, and can match the load profile within 15 Microseconds, in comparison to capacitor bank technology which can take anywhere between 10 and 40 seconds to switch in/out. By the time this has happened, the load has more than likely changed, which means the Cap bank will be either over or under compensating, causing inefficiency.
In many factories and offices, electricity companies charge kVAR rates, which essentially means you are paying for power that you aren't technically using. We find the below analogy generally speaks well to our clients.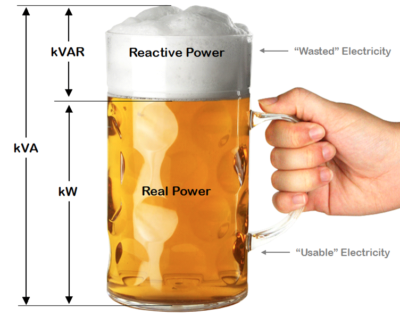 We will be posting more updates once the unit is fully installed and commissioned and can show you real – time money saving technology with proven results.
Please feel free to give us a call at any time to discuss your power factor correction.
Please see the attached photos.
Best Regards,
Casey Landman
Managing Director